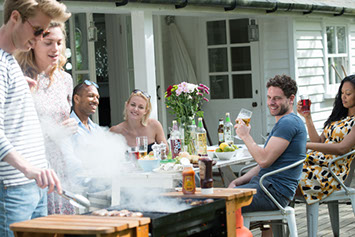 National BBQ Week this year was backed by leading big brand sponsors including Budweiser Prohibition Brew Alcohol-Free Beer, Walkers Max Strong, Branston, Savanna Cider and Primula. We've loved working with every single one of you, so thank you for your support!
The much-loved BBQ Baptas video awards competition returned, where entrants could win a big money prize, and one of three Campingaz BBQ's, plus BBQ Masterclasses, and BarbiBoxes, full of sponsor goodies for runners-up. We will be picking the winners tomorrow, and will blog about them as soon as we have told the lucky winners.
We've also being bolstered by our BarbiSupporters; BBQ grills – Campingaz & 4Grill, BBQ Masterclasses – Craft Food London, BBQ Ice – The Ice Co° and BBQ Restaurants – Bodean's.
The media this year have really been onboard and we are reeling from the amount of coverage generated. We are also delighted by the number of independent retailers, restaurants, garden centres, chefs, and the like that have benefitted and shared their stories on Facebook! It just gets bigger every single year!
In total over 100 competitions have been run, and many happy winners will remember National BBQ Week 2018 as their prizes arrive.
Watch this space for details of 2019 when we will be back, and raring to #GetTheGrillOn!!