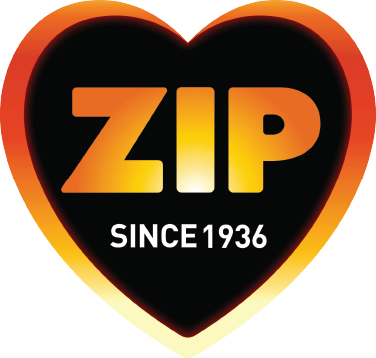 for charcoal & firelighters this Summer, Zip has BBQ solutions for everyone;
Whether it's our Instant Light Disposable BBQ Grill for on-the-go barbecuing, in the park, on the beach or wherever; the Instant Light Charcoal Briquettes for convenient and hassle-free quick lighting; or our new 100% Natural Charcoal Briquettes, sustainably sourced from real coconut shells and with 4 hours cooking time, plus our range of BBQ lighters Zip has everything you need to get you grilling this summer.
Environmentally friendly products
When introducing new products, Zip always looks for original, innovative and environmentally friendly ways to help reduce the impact on our planet.
Our new 100% Natural Charcoal Briquettes promote zero deforestation, whilst our Instant Light Charcoal Briquettes are sustainably sourced with FSC accreditation.
In fact, we pride ourselves that, since 1936 we have been producing firelighting solutions that, wherever possible, are cleaner burning and better for the environment.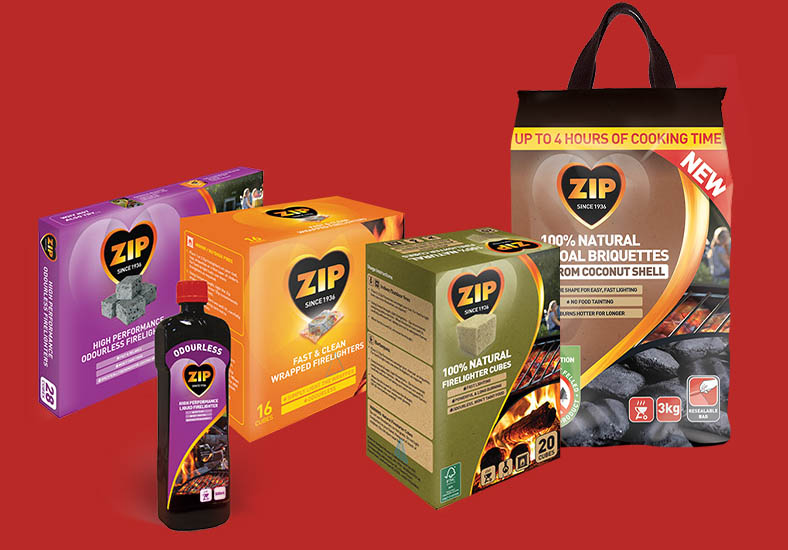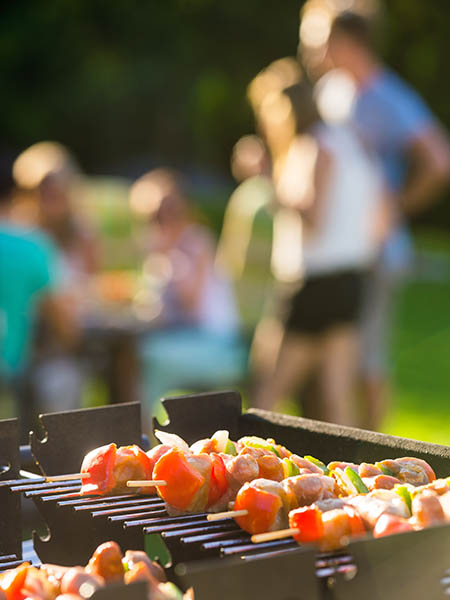 Our BBQ Products
Come rain or shine, it is always barbecue time! Make the most of the great British Summer with easy to light Zip barbecue products that help cook tasty food that's just great for sharing.
NEW Zip 3Kg Coconut Shell Briquettes
Zip 100% Natural Charcoal Briquettes have been designed with a unique pillow shape which includes surface grooves for effective fast and easy lighting. The briquettes provide consistent cooking time for up to 4 hours, you can relax knowing you have enough time to cook all the food for friends and family and even return to toast marshmallows for dessert. Zip 100% Natural Charcoal Briquettes are made from coconut shell which is responsibly sourced with zero deforestation.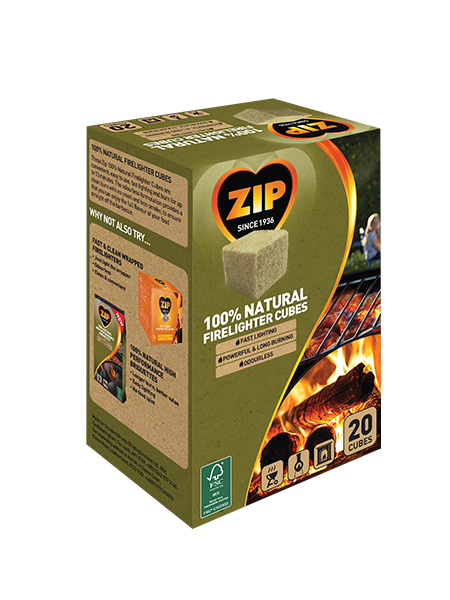 100% Natural Firelighter cube – 20 pack
100% Natural Firelighter cube – 20 pack – Zip Natural individual firelighters are made from sustainable wood and natural waxes. These cubes are 100% natural and FSC certified, providing an eco-friendly fire lighting solution. The natural formulation of these firelighters means they are perfect for use on your BBQ as they give off a pleasant odour and will not taint your food.
The Zip High Performance odourless
The Zip High Performance Odourless firelighters are ideal for lighting barbecues. They are specifically engineered to be odour free, meaning your hands and home remain fresh whilst lighting your BBQ .Don't worry they will not taint the food, as by the time you come to cook, the firelighters will have burnt through and done their job of igniting your fuel for an authentic charcoal taste.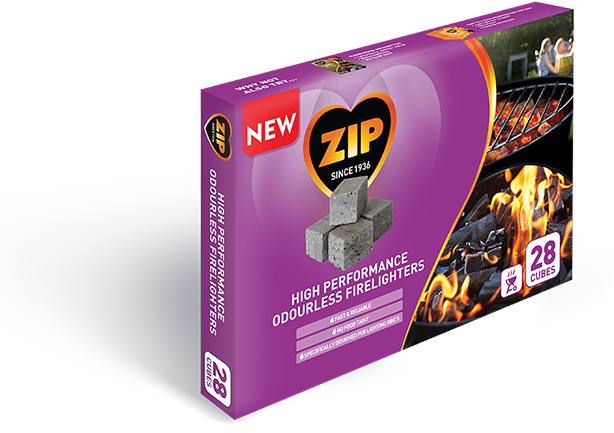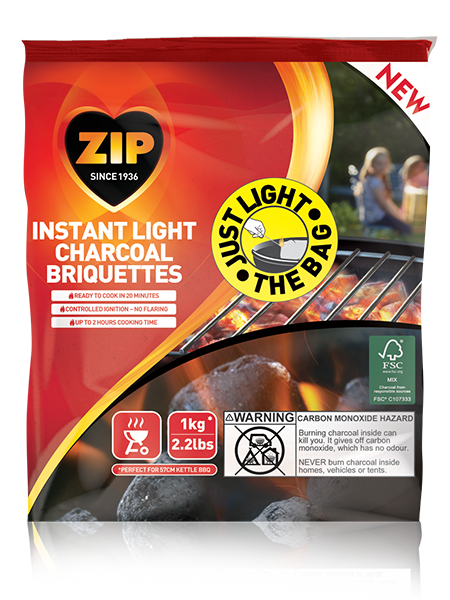 Instant light charcoal Briquettes
The Zip Instant Light Charcoal Briquettes are convenient, reliable and easy to use. Just light the bag and the charcoal briquettes will be ready to cook in 20 minutes. Giving you up to 2 hours of cooking time, with a consistent heat, they will BBQ food to perfection!
Tip 1 -Keep it clean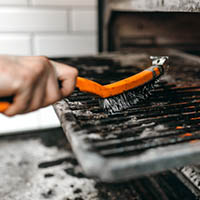 Removing grease and food from a barbecue is easier when it is a little warm. So once the coals are alight and the grate is slowly starting to heat up, use a long-handled wire brush on your grill to clean off any left-over food or grease. And, don't forget to scrape it again immediately after use. This way, you'll be ready for your next barbecue in double-quick time.
Tip 2 -Oil it up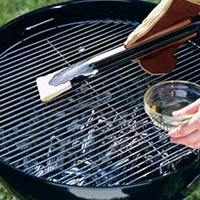 Whether your barbecue is clean or dirty, the lack of grease in lean foods means that they may still stick to your grill. Using a vegetable oil-soaked piece of paper/ kitchen towel and a pair of tongs apply the oil to the food to stop sticking. Never apply oil directly from the bottle or from a spray as this may cause unwanted flames and even smoke.
Tip 3 -Make food safe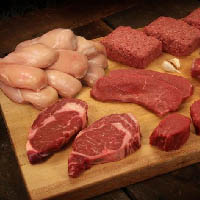 Don't forget food hygiene outdoors when cooking. Remember to have separate plates for raw and cooked meat, different chopping boards for vegetables etc. Also ensure that your food is in the fridge for as long as possible and keep marinating meats in there too.
Tip 4 - Avoid flare-ups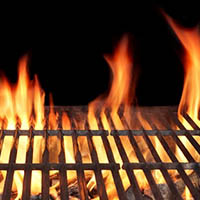 Flames erupt from your barbecue when fat drips onto the heat source and catches fire. You run the risk of charring the outside of the food before the inside is cooked thoroughly. To reduce flare- ups, select lean cuts of meat, trim excess fat and remove the skins from poultry. As an added safety measure, it is worth keeping a "squirt" or "spray" water bottle nearby to quickly douse any flare-up.
Tip 5 - Banish the Bugs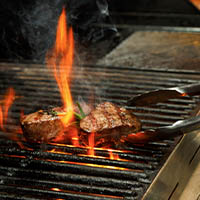 Bacteria in any under cooked food can ruin a great event, so ensuring that your barbecue is at optimum temperature for killing any bugs and thoroughly cooking your food is essential. To make sure your barbecue reaches the right temperature, consider investing in a food thermometer to check that the food is cooking at its most appropriate heat. Alternatively pierce the food with a fork to allow the heat to more quickly cook the inside of the food.