Brewed Smooth for All Food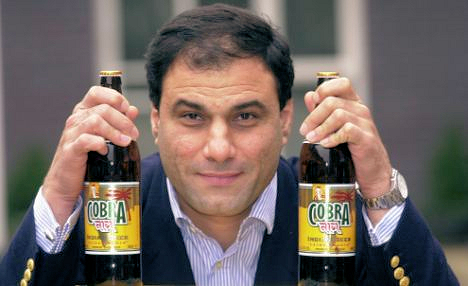 It was in 1989 that a young Lord Karan Bilimoria decided Britain deserved a smoother beer that complimented food dishes.
Realising there was demand for a less gassy lager that could be enjoyed with Indian food, he began perfecting a recipe, using a traditional Indian blend of seven of the finest quality, natural ingredients including: barley, malt, yeast, maize, hops and rice, Cobra Beer was born.
Quite unlike any other lager, Cobra beer is extra smooth and distinctly less carbonated, the ideal beer to accompany a range of food types. One particularly great pairing is with BBQ food, think all the sizzle without the fizz!
Cobra Premium
Our original and most popular beer, Cobra Premium was designed and crafted to be enjoyed with food. Our experts came up with a special brewing process, which results in a smooth and sophisticated taste without so many bubbles. Bottled or draught, this lager is the perfect companion for any dish.
Cobra Zero
Brewed using the highest quality ingredients, resulting in the recognisable smooth Cobra Beer taste, but amazingly, alcohol free! Enjoy Cobra Zero just like any one of our beers – alongside a foodie feast!
Cobra Gluten-free
The familiar taste of Cobra Beer but without the effects of gluten. We want everyone to be able to enjoy the smooth and sophisticated lager we worked so hard to create.
King Cobra
An exceptional beer, King Cobra is the result of an extra special brewing process usually reserved for fine Trappist ales. The liquid is double fermented in the bottle, resulting in a powerful depth of flavour. This full-bodied beer comes in a champagne style bottle, making it an extra-special table centerpiece! Share King Cobra with friends, to be enjoyed with a host of food types.
Malabar
Indian Pale Ale, or IPA, has never been more popular and our first small batch brew, Malabar, is up there with the best. A smooth and complex recipe crafted to produce a quality blond ale that can be enjoyed with any food. Especially delicious enjoyed alongside red meats or with barbeque food of course!
Enjoy your BBQ with a Cobra beer!
BBQ Tips
Foil is your BBQ bestie – use it to create cooking parcels for vegetables and fish.
Place your sausages across your grill, so you don't risk losing one to the coals below!